Some say that to become a good lecturer you need to be ORGANIC: Outspoken, Rambunctious, Garrulous, Animated, Natural, Intense and Cerebral.
Some say you need to be CHEEKY: Charismatic, Honest, Engaging, Energetic, Knowledgeable and Yielding.
Others say that you have to be CRAFTY: Confident, Riveting, Ambitious, Forthright, Tenacious and Yeasty.
Then there are those that say you need to be SHREWD: Sagacious, Haughty, Rasping, Ebullient, Witty and Demanding.
Whatever you've heard about being a lecturer, there is no recipe or formula – lecturers come in all shapes, shades and textures and one size does not fit all. Although there are many skills and qualities that lecturers develop in and 'on the job', there are plenty that can be considered and nurtured before taking the floor.
Front of House
The art and craft of lecturing is full of myths about the pedagogies of engagement but what you say and how you say it are always going to be key constants. Lecturing is a clever mix of pitch, tone, pace and presentational prowess and these will all influence your credibility.
Whilst it is true some people have a knack for lecturing, the majority don't and many struggle to find their feet until they flown a few thousand hours gaining front of house experience. But even those with little or no lecturing experience can learn to walk the talk the talk and walk the walk by developing 'presence'. Even if you don't think you have it, you can fake it until you make it.
Public speaking skills are a must and lecturers need to have a little pinch of showmanship, bags of humour, and jazz hands; non-verbal communication is king.
Obviously, what you have to say is important but how you deliver your message matters a lot and a lecturer's body language speaks volumes. You need the all the PR of a maître d. Work on your body language and you will appear and feel more relaxed, confident and authoritative.
1. Spontaneity
Can there be anything worse than someone reading from a script? This isn't teaching or lecturing but reading aloud. A lecture inevitably follows some structure and a plan but not so that it reads like a newspaper. Memorised lectures sound memorised too. The skill is to memorise the key parts of your content and allow the rest of it to be flexible and natural.
Lecturers need to tell stories, ad-lib and go off-piste in order to capture their audience and do this without derailing the learning. Making a lecture sound natural is no easy task but a rigid straight-jacket lecture that is given with a dry as a bone monotone delivery will have everyone nodding off. Voice tone, volume and pitch are all incredibly important and communicating content with expression and energy is a must. If this means shouting, yelling or singing it then do it and be an enlarged version of yourself.
2. Smile
Let smiling be your default position. If you don't smile then don't expect any smiles back. As a lecturer miles of smiles are important to develop rapport and ensure engagement. Smiling is the silent language of lecturing that can help transmit knowledge and engender trust. Smiling is important because it is contributes not just to our own mental health but feeds into the stability, happiness and mental health of our students. Smiling is definitely one of the most spontaneous things a lecturer needs to do no matter how serious the topic.
3. A time manager
Time management, task management and productivity are all fundamental skills as you will have to juggle classroom time, preparation time, administration, research and your work-life balance. One of the most valuable ways of organising yourself and your time is to use a simple decision-making tool called an Eisenhower Box.
Dwight Eisenhower was the 34th President of the United States and so was a busy man; to help himself get to grips with the tasks he faced he invented a matrix for prioritising. He separated his tasks and decisions based on four possibilities according to their urgency and importance: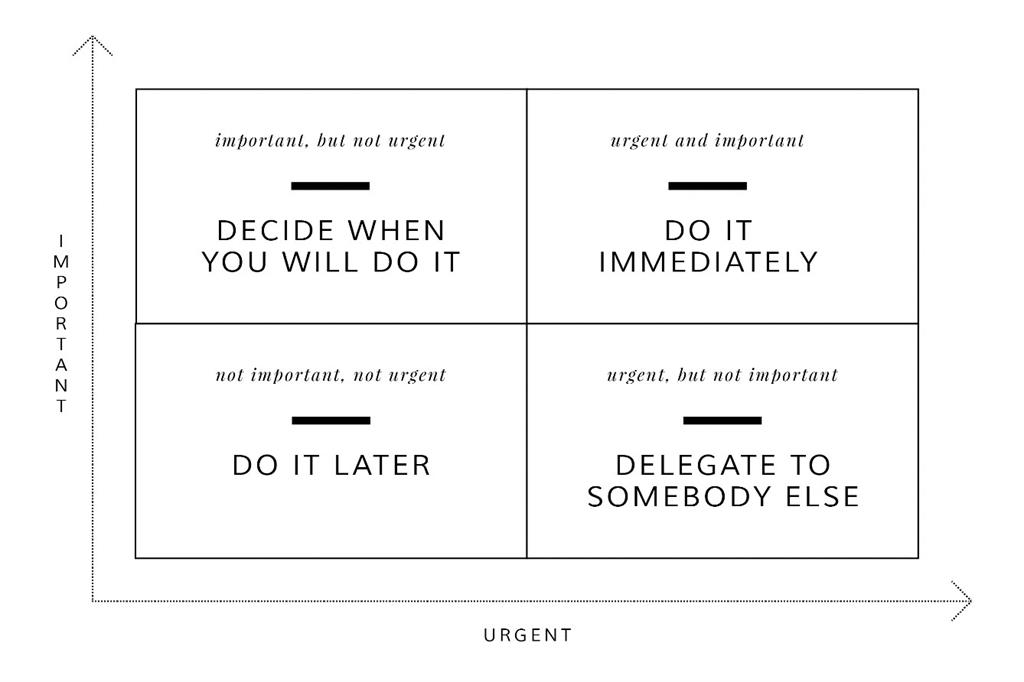 Use the matrix to help you as it provides a clear framework for making decisions over and over again and helps you remain cool and focused under pressure.
4. Self-motivation
Your motivation is an essential component in enhancing classroom effectiveness and student performance. Motivated students are more excited to learn and participate.
Being able to motivate yourself is an important skill that will help you be professional and be in control. It's also a must-have because being self-motivated gives you a range of different strategies to inspire your students to keep motivated, especially when they become tired, distracted or disillusioned. Lecturers need to be very aware of impact that their level of motivation has on their students' motivation level. Motivated lecturers report enthusiasm about both teaching and students' work.
Intrinsic, altruistic and extrinsic motivations are major reasons accounting for the decision to become a lecturer.
5. Emotional intelligence
An effective lecturer requires cognitive, emotional and compassionate empathy because relationships matter more than anything. Communicating en masse is a prerequisite skill but one-to-one skills are just as important.
You need to be able to cue into emotional cues, show sensitivity and understand others' perspectives, leverage diversity and help students to develop to their full potential. You are trusted advisor, teacher, counsellor, politician and psychologist. Intellectually developing your own empathy skills are a key part of being an emotionally intelligent professional.
6. The Knowledge
Like a London cabbie, you are required to accumulate an encyclopaedic knowledge of your subject area and the pedagogy that feeds into it. You need to demonstrate an expert and authoritarian knowledge and make the material accessible, intelligible and meaningful. This involves presenting the material in a clear, concise and logical sequence, generating curiosity and illustrating practical applications with insight. The role of a lecturer is pivotal in keeping students engaged and actively listening to the topic in hand.
'The Knowledge' also involves probing students' previously constructed knowledge in order to make appropriate teaching choices so that students connect new ideas and challenge their own thinking.
And finally…
What else? This isn't a definitive list by any stretch of the imagination as the role is far-reaching but there are a couple of ingredients that have to be in everyone's locker: a sense of humour and an open-mind that 'every day is a school day' or at least a college one!
About the author
John Dabell
John is an ex-primary school teacher and Ofsted inspector who has spent the last 20 years working in the education industry as a teacher, writer and editor. John's specialist area is primary maths but he also loves teaching science and English. John has written a number of educational and children's books, and contributed over 1,000 articles and features to various educational bodies. John is eTeach's school leadership and Ofsted advice guru, sharing insights on best practice for motivating and enriching a school team, as well as sharing savvy career steps for headteachers and SLT.