In May, the Department for Education released the Keeping Children Safe in Education 2022 document. This provides information regarding updates that will come into force at the beginning of September.
So, what does this mean when it comes to recruiting new staff safely?
We've pulled out the key changes schools and colleges should know when it comes to updating their hiring process, and how we've improved our products to be in line with this new guidance.
Applications
For roles that involve "engaging in regulated activity relevant to children", the updated guidance now states that a CV is not a sufficient form of application by itself and instead, should only be accepted alongside a full application form to support safer recruitment.
Our software supports multiple methods for application, whether that's your own application form that candidates can download or utilising our online application form. We've ensured that our online form is fully compliant with KCSIE guidelines, including linking candidates to the latest government documents, so you don't have to worry. When new updates are announced, we conduct a review to provide a safer recruitment process from start to finish.
Online searches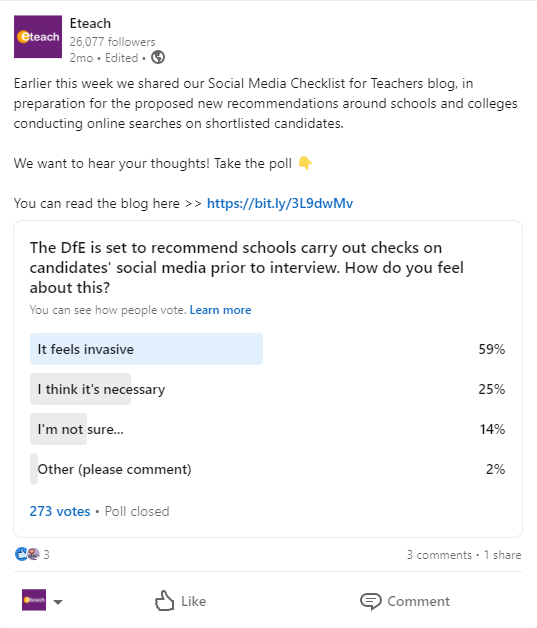 Schools and colleges are now recommended to conduct social media checks on shortlisted candidates prior to interview. Although this is not mandatory, the DfE are advising educational institutions to consider online searches as part of their due diligence.
Eteach conducted a poll on LinkedIn, asking candidates how they felt about social media checks. 59% of candidates (out of a poll of 273 votes) felt online searches were invasive. However, 25% thought they were necessary for safer recruitment.
In accordance with this new guidance, we have made a few adjustments to our Client Portal, so schools and colleges can inform shortlisted candidates about online searches. However, the new guidance does not suggest that candidates are required to be informed when these checks are done.
We've updated our best practice 'Invite to Interview' and 'Invite to Online Interview' email templates to include a disclaimer to inform candidates that they may be subject to an online search if they are shortlisted during the recruitment process.
How to inform candidates about online searches from your Client Portal
If you are using your own email templates, update your shortlisted email to notify candidates
Add application instructions to inform all applicants that they may be subject to an online search
Add an additional question requesting consent from candidates (however this is not necessary)
If you'd like to find out more about the new KCSIE updates, the NSPCC have provided a useful breakdown of information.
Client Portal Contact Us
Originally posted on Eteach.
About the author
Tammy Lane
After completing a BA in Creative Writing and a Masters in Creative and Critical Writing at the University of Winchester, Tammy worked as a Learning Support Assistant, with a focus on helping students develop their literacy skills. She then taught as an English teacher at an all-boys comprehensive school in Berkshire. Now she has turned her sights to a career in writing, with education at the heart of it.