0
eTeach Recruit South East jobs
eTeach Recruit South East is currently not recruiting
Let eTeach Recruit South East know you are interested in being part of their team by joining their Talent Pool. Alternatively visit their career page to find out more.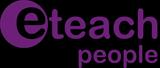 1
job from recruiters similar to eTeach Recruit South East
Job Title

SEN Area Manager
Location

Surrey

Salary

£44,838

Posted

1st July 2019

College

Contract Term

Permanent

Description

£44,838 per annum based at Quadrant Court, Woking, GU22 7QQ. This position is based inside one of our main area offices, click HERE to see a 360 degree view of the building and su ...