What's new to FEjobs in January 2021?
As we move fully into 2021, you may spot some key improvements to your Client Portal.
---
Premium customerslite customers
Restyling of the Recruiting Pipeline
New year, new pipeline!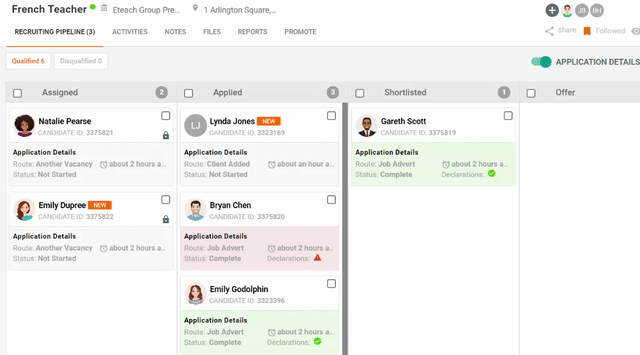 We've redesigned the candidate cards within every vacancy's Recruiting Pipeline, with an Application Details section that you can toggle on or off, depending on how much information you want to see on the applicant.
Colleges using our mobile-friendly online application form as their application method will also see the second half of the card coloured, depending on the candidate's declarations.
We've also updated the "Assign candidate" feature within the Recruiting Pipeline, with a slicker and cleaner journey. This has an inbuilt "invite to apply" email so you can also contact the candidate in one place, if appropriate. This will make it quicker for colleges (and especially groups) to manage candidates, and we will soon be updating the other "assign candidate" locations across your Client Portal.
---
Premium customerslite customers
Application notification frequency options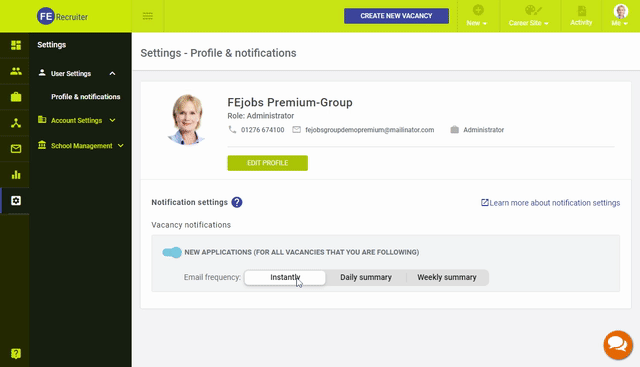 Based on feedback from our colleges, some users have found they are getting far too many application emails. New this month, Client Portal users can now change the frequency of their application notifications, choosing to receive them instantly, daily, or weekly.
Alongside this, we've brought out a new design of our application emails; now you can see the candidate name and photo (if they have uploaded one) and can link directly from the email to the applicant, saving you time and effort. Hiring Managers operating under Blind Recruitment processes will see the candidate's ID instead.
---
Premium customers
Schedule online interview updates
Our schedule online interview premium feature now allows you to upload links of the recorded interviews against each candidate, giving you one location where you can manage the candidate's application journey from start to finish.
We've added a filter on the dashboard widget, letting you filter the online interviews by "my interviews" or "all interviews". Colleges that use this feature a lot will find this especially useful, allowing them to locate particular interviews a lot quicker and easier.
You can also view details on a candidate's online interviews directly within the candidate slider, with a new "Online interviews" tab.
---
Premium customers
Equal opportunities monitoring report update
As requested by numerous clients, the "Application Status" column now populates and updates when candidates are moved throughout stages in the Recruiting Pipeline.
This allows colleges that are passionate about equal opportunities to further monitor their recruitment processes, ensuring that they are recruiting fairly and have a diverse team.
---
Premium customerslite customers
Copy application feature
Our brand new 'copy application' feature allows you to 'recycle' your silver medallists from closed vacancies; those who stood out but didn't quite beat your chosen candidate to the finish line!
You can now copy applications over to a new vacancy, including files and notes if you wish to duplicate. What's more, these high-quality candidates are notified through your Client Portal automatically so they will already know they are being considered for another role at yourcollege.
---
Premium customerslite customers
Application starters
We're putting the power in your hands! You can now view "application starters"; candidates who have begun but not completed their application.
With application starters toggled on, you will be able to see these interested candidates within your Recruiting Pipeline.
Please note that this is available only if you are using our online application form.
---
Coming up
We've got some exciting job board changes bubbling away, to keep our candidates coming back to FEjobs to manage their education career. We're also evolving areas of the Client Portal to give you a smoother experience to let you focus on what you do best – teach.
Log in to the Client Portal now to see the latest functionality. Not seeing all the functionality? Contact your Account Manager and talk about upgrading your account.
About the author
Emily Godolphin
As Eteach Group's Product Marketing Manager, Emily is passionate about giving schools and colleges the ability to seamlessly recruit and hire teaching staff across the UK and beyond. Emily graduated with a first class honours in Education Studies at the University of Winchester and has since had 7 years of experience in marketing for recruitment companies.