What's new to FEjobs this winter?
This winter, we've made some changes to your Client Portal and job board to support you in your recruitment in 2021 and beyond.
---
Premium customerslite customers
Candidate actions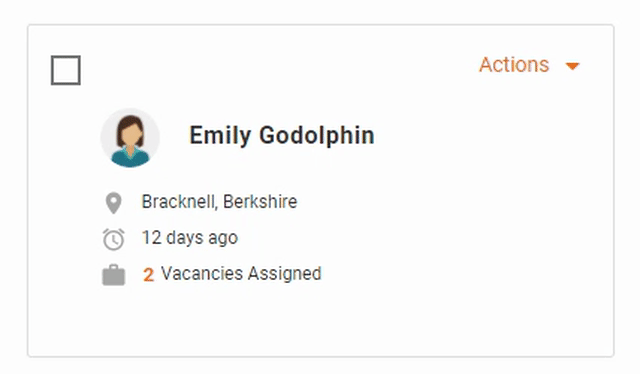 We're all about increasing efficiency for colleges that use our technology. That's why we've added shortcut actions against any candidate, allowing you to assign to a vacancy, upload files, schedule online interviews and more without needing to click into the candidate details first.
These additional actions are available for you when you're browsing candidates in your Talent Pool or in the Candidate tab. Why not try it now?
---
Premium customerslite customers
SEO job board improvements
Over the past few months, our SEO team have been working on some significant improvements that will directly affect the jobs that are listed on our job board.
These changes include refined metadata (the description of your college's job search page that Google sees) and location links on the job detail section of your jobs. We are constantly striving for best practice when it comes to SEO, so you can be confident knowing that your jobs will be found by interested candidates.
---
Premium customerslite customers
Candidate ID added to our online application form
Based on customer feedback, we have added the "Candidate ID" as a new field on the online application form for each applicant. This will help to support administrators and hiring managers when trying to cross-reference and identify candidates, especially when proceeding them through the recruiting pipeline.
This will better support colleges that are utilising our Blind Recruitment feature within the Client Portal (to practice un-biased recruitment).
---
Premium customerslite customers
Inline header image editor
We've introduced the ability to resize and crop your header image (which is displayed above your jobs and your Career Page/Career Site) from the comfort of your Client Portal with our inline image editor. This gives you the ability to upload an image of any dimensions, and crop and zoom in to select what part of the image shows as your header.
Give it a try now on the Career Page editor (for our lite customers) or Career Site editor (for our premium customers).
---
Premium customerslite customers
Image and file optimisation within the Client Portal
We've made some "behind-the-screens" changes to our image and file upload functionality. Now when you upload an image or a file, it will be automatically optimised to allow it to load quicker for the candidate accessing it. This means that the web pages hosting them will load much faster and give our candidates a better, quicker experience when browsing your jobs and pages.
This will have a particular affect on our mobile users, which currently accounts for over 60% of our candidate traffic.
This will also increase the SEO authority of your jobs, allowing more candidates to find your jobs via Google and other search engines.
---
Premium customerslite customers
Minor bug fixes and performance improvements
It's been a busy few months tweaking the job board and Client Portal so that it works perfectly for our colleges and candidates! We've made over 30 minor tweaks since the last product update to give you the most seamless experience possible.
---
Coming up
In early 2021 we are introducing a new look to your Recruiting Pipeline, as well as some new features that all our licence clients will have access to.
Log in to the Client Portal now to see the latest functionality. Not seeing all the functionality? Contact your Account Manager and talk about upgrading your account.
About the author
Emily Godolphin
As Eteach Group's Product Marketing Manager, Emily is passionate about giving schools and colleges the ability to seamlessly recruit and hire teaching staff across the UK and beyond. Emily graduated with a first class honours in Education Studies at the University of Winchester and has since had 7 years of experience in marketing for recruitment companies.