Most frequently asked jobseeker questions
The odds are that we have the answer! 
Application History – Where can I see my previous applications?
A summary of all applications made by uploading forms through FEjobs, part of eTeach Group, or by completing the online application form (required by some colleges).
Disclosure and Barring Service - What is a DBS?
A DBS is the common term used to refer to a background check performed by the Disclosure and Barring Service. It used to be called a CRB. A clear 'enhanced disclosure' from the DBS is an essential pre-requisite for any person who wishes to work with children or vulnerable adults, regardless of their job role. 
Read more about criteria for teaching in the UK
Email address - How do I change my email address?
To change your email address please email candidatesupport@eteach.com from the email address that your account is registered to and include the address you would like it to be changed to.
Login - How do I log in?
If you are a member, you can log in using your member login details (your email address and password). You should have received an email confirming your details. If you have forgotten your password, follow the password reset process. If you have forgotten your login email address or cannot remember if you are registered with FEjobs, just call our Support Team on 0845 226 1906.
Login - How do I change my login details?
Log in using your existing details. Once on your 'Candidate Page', the option to change your password is located at the bottom of the page, on the left-hand side. This will open a pop-up box which will prompt you to provide your 'old' password and to then create a new one.
Managing my vacancies - View your saved jobs and suggested jobs
Store details of job vacancies, which are of interest to you in one click and view similar roles that are also available.
Password - I have typed in my password and email address correctly, why can't I log in?
If you are sure you are using the correct password and problems persist, please call our Support Team on 0845 226 1906.
Registering - I am trying to register, but keep getting an error message - what could be the problem?
If you are getting the message 'This email is already registered on our system', you may have registered with FEjobs in the past and your details still exist on the system – either as a recruiter or a candidate. You can use an alternative email address and password to register with or if you want to track down your old login, please call our Support Team on 0845 226 1906.
Password - How do I change my password?
To change your password, you will need to log in to your FEjobs account using your existing details. Scroll down to the bottom of 'My Account' and click on the 'Change Password / Manage Access' button. Follow the instructions within the 'Change Password' pop up and press save. Your password will now have changed.
Profile – How do I create my job seeker profile?
Maintain the relevant information you need to apply online to vacancies. Always ensure that your CV is kept up to date too as this is visible to our recruitment team.
Profile - How do I change or update my instant online CV?
Log in using your existing details. On your 'My Account' page you will see your CV below the profile builder. There are two icons next to this. To view your current CV you can click the 'eye' to upload a new CV you can click the second icon which looks like a 'refresh' symbol.
Privacy - Can anyone see my CV if I add it to the site?
If your CV is only present on your profile under 'my Account' it will be visible only to our own recruitment teams here at FEjobs. If you register your CV to a regional Talent Pool it can be viewed by any schools in that region unless you have selected to exclude them. If you have joined a college Talent Pool your CV will be available to view by that school.
Saving Searches – How do I save searches and create job alerts?
Speed up the process of searching for the latest vacancies by creating and saving searches based on your own criteria and receive email alerts informing you of new vacancies matching your criteria.
SEARCH: How do I carry out an advanced job search?
The fejobs.com search works using advanced keyword matching.
It then produces a comprehensive set of results – which you can then manipulate by filtering.
To carry out a specific job search:
Firstly, type the subject (e.g. history) OR a cluster name (e.g. Harris or Nottingham City Council) or a type of role (e.g. teaching) into the WHAT field.
Then, add your preferred location – this will allow you to filter the radius later. The target icon will locate where you are.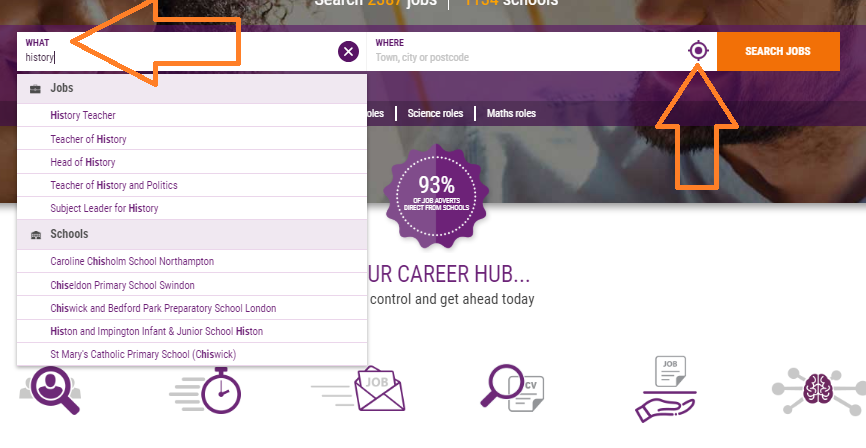 In the search results page, you can filter using the choices on the left. This works much like the filter you may have seen on shopping or property sites.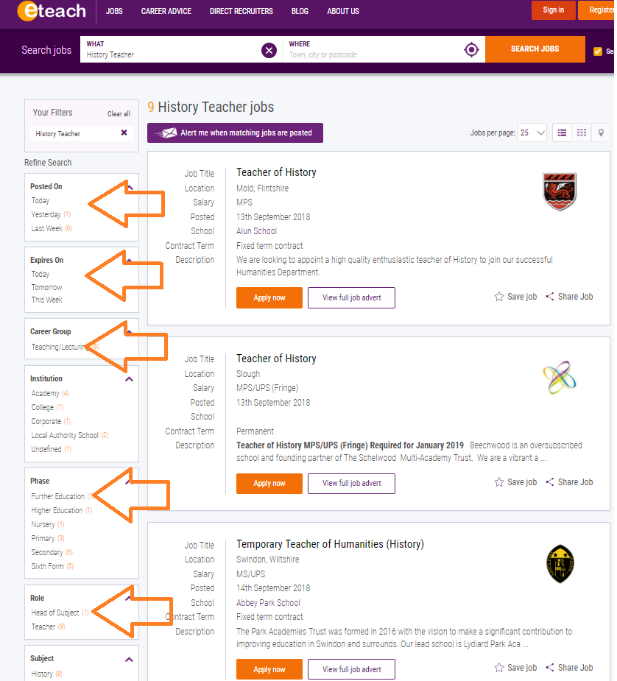 If you have selected a TOWN in your search, you will also be able to adjust the radius from that central point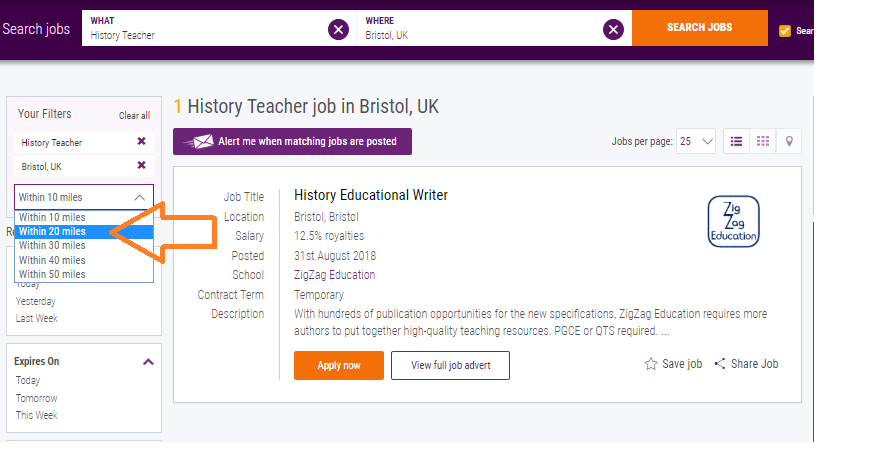 Talent Pools – what are they? 
Talent Pools – How do I join the college and regional Talent Pools?
Let colleges know that you are looking for work by joining their talent pool and uploading your CV. By joining the regional pool, you will be visible to colleges in the region with the option to select colleges to not be visible to.
Click here to see our list of Talent Pools