Contact us: 0845 226 1906
GDPR Guide for Schools and Colleges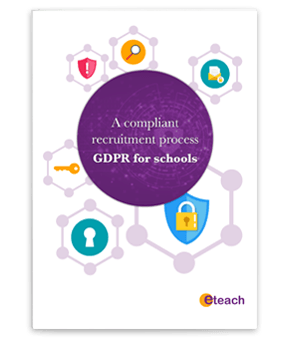 This guide will tell you:
How to change your application forms to reduce your risk while attracting more applications
How to apply the new permitted Legal Bases for processing personal data
How to prepare to meet the new individuals' (candidates') rights
Working with Equal Opportunities data compliantly
Criminal data including DBS checks
How to proactively but compliantly Talent Pool
Who's who in school? Data Subjects, Controllers and Processors and their Accountability
3rd party supplier contracts
Data breaches - the 72-hour rule
Download your free guide now
A little bit more about what you'll be reading...
Drawing on advice from the ICO and our recruitment legal advisors, our guide details how your college's recruitment process should now be changed in order to remain completely compliant under the GDPR.
Regardless of the size of your school, MAT or college, this guide can be used to review each step of your recruitment process and identify where you are collecting and processing data, and how it should be now treated to safely satisfy the principles of GDPR and candidates' rights as data subjects.